The sudden shift to a virtual workplace disrupted countless areas within most organizations. This change had an immediate and visible impact on the learning and training sector.
HR and training professionals with years of experience leading in-person sessions had to quickly adapt their course material, delivery methods, and techniques to be effective in a virtual setting.
While there is undoubtedly some overlap compared to in-person training, facilitating a virtual training session has unique facets that require a different set of skills to help participants learn.
Additionally, at some point in 2021 and into 2022, in-person office and training sessions will resume, and so HR professionals need a blend of these skills to be effective at their job.
With these market conditions in place, what should you do to improve your facilitation skills and level-up in 2021? New certification options from ELI® have recently been launched to help you proactively address these dynamics.
A New, Hybrid Certification Opportunity
A central goal of ELI's Learning and Development team throughout 2020 was the creation of tools and training materials to assist our network of over 12,000 certified instructors to be successful in a virtual environment.
After consulting with clients at Fortune 100 companies, leading Federal Government Agencies, and organizations across the country, ELI created a new Hybrid Certification option that combines the best of both delivery methods – virtual and in-person.
The new Hybrid Certified Instructor Program was designed to equip Human Resources, EEO, L&D, and other professionals with tools and skills that prepare them to facilitate virtual learning experiences while also touching upon facilitation best practices for the in-person learning experience.
Hybrid Certification Courses
The Hybrid Certified Instructor Program is a blended learning experience that includes self-study pre-work, live virtual instruction over three consecutive days, and homework activities on the ELI Learning Management System (LMS).
Four different hybrid certification courses include Civil Treatment Workplace, Building an Inclusive Workplace, Civil Treatment Workplace: Inclusion NOW, and Civil Treatment Basics.
Civil Treatment® Workplace Certification
The Civil Treatment Workplace course allows participants to immerse themselves in our Civil Treatment Workplace Initiative for Leaders and Employees. Once certified, participants will help their organization build better and more effective behaviors aligned with mission, values, and goals– and maintain those changes for the long term.
Building an Inclusive Workplace Certification
In this Certified Instructor Program, participants will explore and practice teaching ELI's diversity and inclusion program, Civil Treatment: Building an Inclusive Workplace for Leaders and Employees. Certification in this course equips facilitators with the skills to build highly inclusive teams and leverage differences to maximize results.
Civil Treatment® Workplace: Inclusion NOW
In this CIP, participants will explore and practice our newly updated Diversity, Equity & Inclusion program, Civil Treatment® Workplace: Inclusion NOW for Leaders and Employees. Upon certification, participants will be equipped with tools to build highly inclusive teams and honor peoples' differences to maximize results.
Civil Treatment Basics for Government Certification
As part of the Civil Treatment Basics for Government program, participants will practice and explore the learning philosophy and methodologies of Civil Treatment for Leaders in Government and Civil Treatment for Employees in Government training programs.
A Three-Day, Virtual Certification Experience
As with most training events during the pandemic, the Hybrid Certified Instructor Program is offered virtually. The training is delivered live over three-days and is hosted on ELI's Zoom platform. Days are broken into morning and afternoon sessions that begin at 10:00 AM and wrap up at 4:30 PM.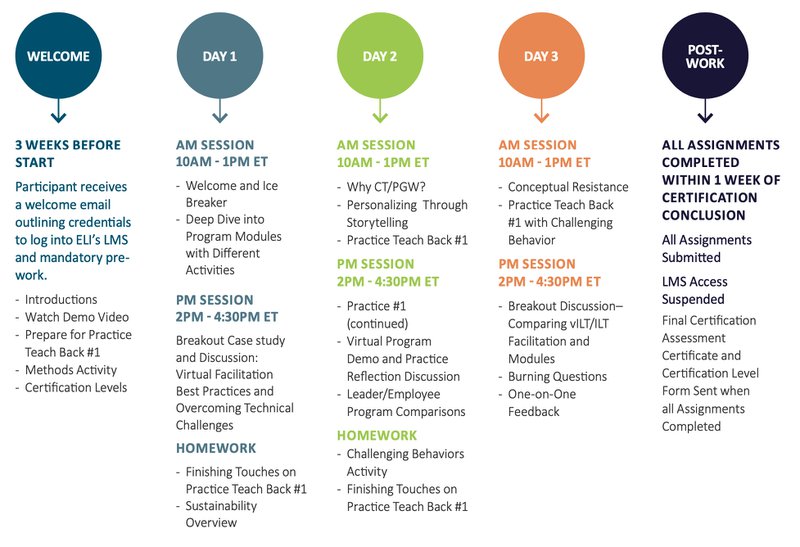 These training sessions are highly interactive and require active participation. Attendees use audio and video while participating in class discussions, feedback sessions, and learning exercises.
After participating in the sessions, completing the course assignments, facilitating practice teach backs, and demonstrating knowledge and facilitation skills, participants are awarded an official ELI certification. Certification in the program allows facilitators to offer the training at their organizations and provides access to the ELI Certified Instructor Community™.
Best of all, your certification is transferable should you change positions within your company or move to another organization.
Taking the Next Step
Are you ready to level up in 2021 and bring your facilitation skills into the Zoom era? Explore ELI's Hybrid Certified Instructor Program and broaden your horizons this year.
As a certified instructor, you'll join more than 12,000 individuals in ELI's Certified Instructor Community, who are helping their organizations build professional and collaborative workplace cultures.
A complete list of upcoming workshops is available on the ELI site, and you can contact the ELI CIC team to learn more about pricing and availability.